In-class TEFL course
What do we offer?
Asian College of Teachers (ACT) has come up with a comprehensive 3 weeks Premium TEFL Program that will boost up the career of the aspiring teachers who are looking to enter the world of teaching English as a foreign language (TEFL). The 3 weeks premium in class TEFL course guides the aspirants to develop a flourishing teaching career and also an opportunity to roam about the whole world. The program will equip the teachers with all the modern methodologies and make them ready for the future.
Those who are pursuing the course will get certified by TESOL Canada and Asian College of Teachers. The Premium in-class TEFL certification course by ACT is conducted in some of the exotic locations around the world. The program offers you a wonderful experience of learning, travelling and teaching for the candidates. The program not only develops your teaching career but also fulfills your travelling quest by offering the benefit of exploring the world with aspiring and like-minded teachers while gaining knowledge about the practical aspects of teaching.
So, if you are dreaming of a TEFL career, all you need is to pursue the 3 weeks premium program, earn an English language teaching certificate and prepare yourself for a well-paid, enthusiastic teaching career worldwide. ACT offers the in class TEFL teacher training program in gorgeous locations like Mumbai, Bangalore, Kolkata, Delhi, Kochi, Goa, Hyderabad and Chennai in India and the pulsating city of Bangkok in Thailand.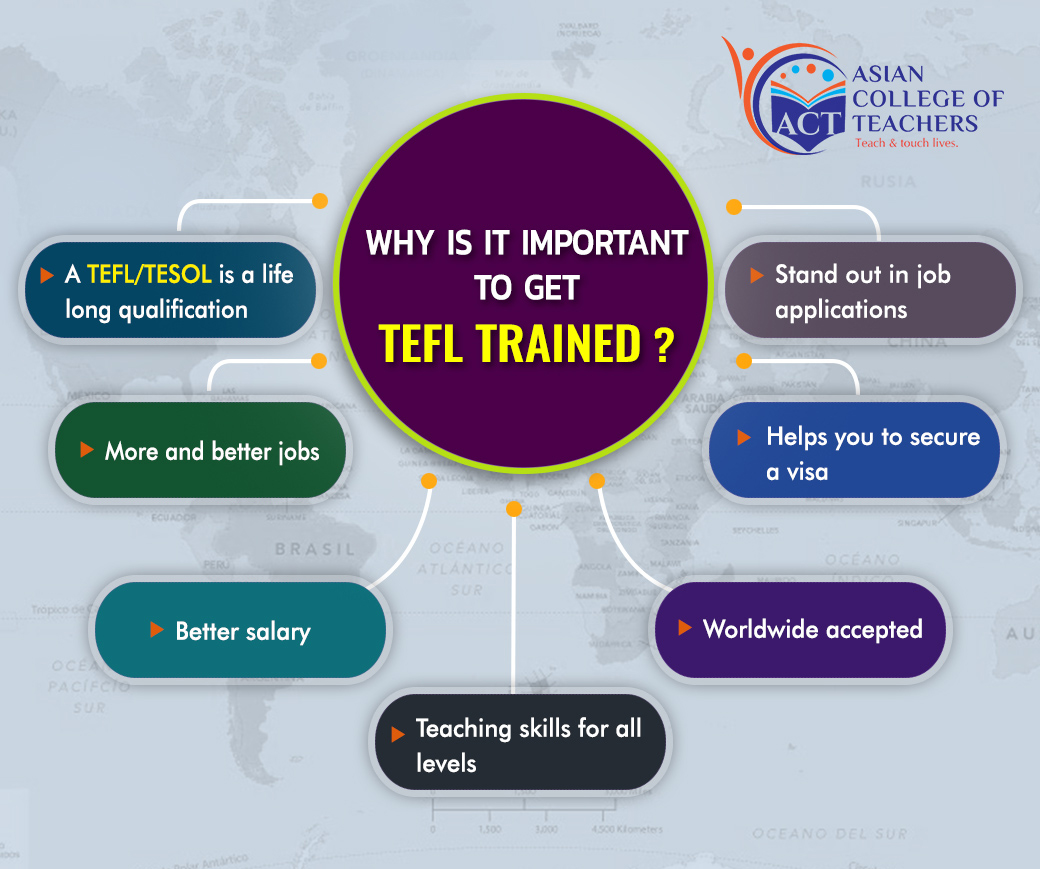 When will the course start?
Session Start Dates:
Weekend Classes:

Date
Months
20th August - 5th November 2022(2 pm to 5 pm)
3 months
Weekday /Bi-weekly Classes:

Date
Months
3rd August - 9th September 2022 (2 pm - 5 pm)
1.5 to 2 months
Duration of the course
The duration of the In class TEFL Program is 3 weeks that guides the aspiring EFL teachers to enhance their teaching skills through the modern teaching techniques and methodologies. The TEFL in class course will prepare you to face any ESL classroom across the globe with confidence. This program also provides you the benefit of a long term teaching practice in local schools where you will get an experience of real time classroom teaching with learners whose native language is not English.

The program includes components of language teaching methods, teaching skills, lesson planning along with teaching practice sessions in local schools. The 3 weeks in class program will give you an idea about the obstacles that you might face in language learning and the experience of being a language learner.
Course Fee
Cochin, Course Fee: INR.40,000/-
Bangalore, Course Fee: INR 40,000/-
Kolkata, Course Fee: INR.40,000/-
Bangkok, Course Fee: INR 40,000/-
Mumbai, Course Fee: INR 40,000/-
New Delhi, Course Fee: INR 40,000/-
Goa, Course Fee: INR 40,000/-
Hyderabad, Course Fee: INR 40,000/-
Chennai, Course Fee: INR 40,000/-
*The price is inclusive of taxes
The Premium TEFL Programs conducted in Bangkok, Kolkata, Kochi, Bangalore, Mumbai and Goa also provide decent accommodation or a separate cost. The course fee for Bangkok includes free calling card and accommodation in a reputed 3 star hotel in Bangkok (inclusive of breakfast), Thai Language and cultural orientation by trained Thai faculty, special city trip of Bangkok, and beautiful souvenirs to pack your TESOL memories.
Eligibility for the Course
Any fresh graduate from any discipline is eligible to pursue this course. The minimum TEFL course requirements are that the aspirants should have a near native English accuracy, sound educational background and a zeal for teaching. The in class TEFL certification program is beneficial to not only aspiring teachers but also experienced teachers who want to hone their TEFL teaching skills and simultaneously earn a teaching English abroad certification. The program can be viewed as a career change option to teach abroad and a way of financially supporting early retirement. The program is designed to provide a wide ranging experience of living and working out of the country.
Certification
On successful completion of the course, candidates will receive a globally recognized certificate awarded by Asian College of Teachers (ACT)
ACT TEFL courses are accredited by the world's largest TESOL accreditation body TESOL Canada & TESOL USA
Successful TEFL students can get exclusive TESOL Canada Certificate after successfully appearing for the TESOL Canada Board exam by paying an extra exam fee
TESOL Canada Certificate can be Notarized, Apostle, Attested by Embassy of India in Ottawa or Washington
TESOL Canada Certificates can be signed and sealed by UAE Embassy in USA or Canada
Certificates can be authenticated by Canada - Ministry of Foreign Affairs and USA
ACT is a Cambridge authorized TKT Centre and all our students can sit for Teaching Knowledge Test and earn their Cambridge Certificate. Exams are conducted all over India. These tests can be availed by paying an extra fee and are globally accepted for any teaching job.
The candidates will receive a globally recognized certificate awarded by Asian College of Teachers (ACT) on successful completion of TEFL Certificate course. ACT's TEFL courses are accredited by the world's largest TESOL accrediting body, TESOL Canada - an international association of educators, TESOL teachers, TESOL instructors, TESOL graduates, Board of Federal Directors and Provincial Representatives across Canada with both national and international representatives. TESOL Canada programs are approved by the Ministry of Employment, Human Resources Development Canada HRDC, and authenticated through the Ministry of Foreign Affairs for international use.
The certificate awarded has an extra advantage as the word "Online" will not be mentioned in the certificates. Shipment of certificates within India is done free of cost but the candidates residing outside India are required to pay an additional fee. Generally after the submission of all the assignments and completion of the course, the candidates need to pay the dispatch fee. After that the institute takes the respective shipping address and contact number of the candidate to courier the certificate. It will take a maximum 3 weeks for the certificates to reach the designated address.
Accreditation
ACT TEFL courses are accredited by the world's largest TESOL accreditation body TESOL Canada & TESOL USA.
All TEFL courses are accredited by International Association for Quality Assurance in Higher Education (QAHE)
TEFL Courses from ACT are also accredited by CPD Certification Service UK
All ACT courses are endorsed by NCC, an awarding organisation and a global provider of British education
Certificates can be authenticated by Accreditation which is a process which plays an important role for an educational institution as it is all about meeting the set standards of quality and is an on-going evaluation which encourages constant improvement. It acts as a vital tool to monitor and assess the standard and quality of education. TEFL Certificate aims at those planning a career in EFL/ESL teaching and keen on exploring different cultures while they teach and travel abroad.
All our TEFL courses are accredited by the world's largest TESOL accreditation body TESOL Canada & TESOL USA and the candidates get the option of appearing in the TESOL Board exam and receiving prestigious TESOL Canada and TESOL USA certificates notarized, attested and apostle by US and Canadian Government and Embassy of UAE and India.
Moreover, after successfully completing the TESOL Course, the candidates can further opt for our Degree programs in TESOL/TEFL.
TEFL In-class Locations
If you are eyeing for a TEFL career then pursue in-class TEFL course from Asian College of Teachers where you can develop practical teaching skills and get equipped with the latest methodologies of effective language teaching which gives you the confidence to teach any age group anywhere around the world. Read More