TESOL Course in Kolkata
Internationally accredited 120 hours TEFL Course in Kolkata
Kickstart your TEFL career with 3 weeks In class TESOL certification in Kolkata offered by Asian College of Teachers in Kolkata. The 120 hours TEFL Course in Kolkata that comes along with teaching practice sessions provides you the opportunity to get TESOL certificate online and build your TEFL career. You can simultaneously explore this culturally diverse city filled with stunning British architecture and interesting tourist places, dazzling shopping malls and gorgeous restaurants.
This affordable TESOL certification course will prepare you to shine in the field of EFL/ESL teaching so that you turn into proficient English teachers in near future and also give you the opportunity to explore the history of the city along with its modernization and rapid developments. So grab this opportunity to become TEFL certified and begin your journey to boost your teaching career.
Program Details
⦿TEFL/TESOL course in Kolkata is a 120 hours full time course for 3 weeks
⦿Trainees are given the opportunity to learn practical teaching skills and thorough understanding of TEFL methods
⦿Course focuses on the basics of the English language teaching like grammar and phonetics
⦿Course content provide an in-depth knowledge of foreign language awareness and lesson planning
⦿Trainees adapt classroom management skills
⦿Program includes observed teaching practice sessions of 8 hours & more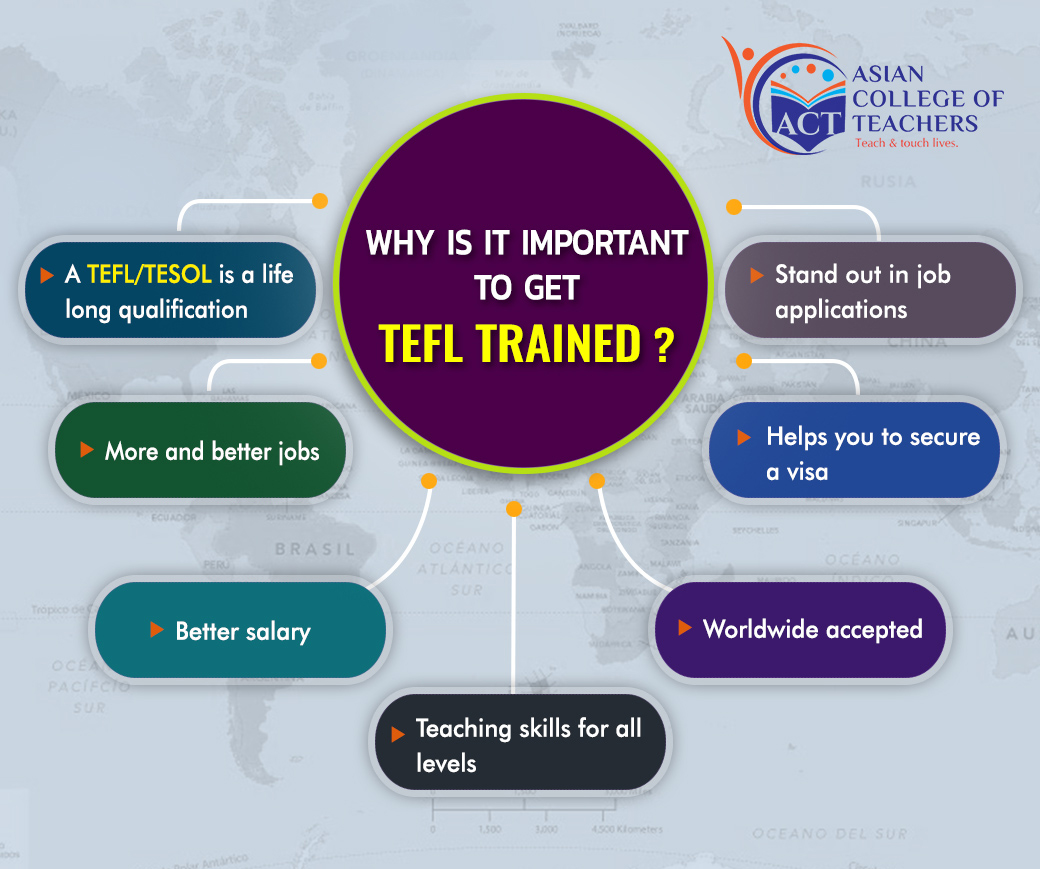 Fee for Live Online TEFL
⦿35000 INR / 17200 THB / 500 USD / 400 GBP
The TESOL certification online course is available at a reasonable price of 45,000 INR (inclusive of GST) excluding accommodation. The method of payment is quite easy and hassle free. The candidate will receive all the details regarding payment once they receive confirmation.
Inclass TEFL Dates
30th January - 17th February 2023
Live Online TEFL Dates
| 14th January - 1st April 2023; 10 am to 1 pm (IST), 3 months, Saturdays | 13th February - 22nd March 2023; 2 pm to 5 pm (IST), 1.5 to 2 months, Mon & Wed |
| --- | --- |
Accommodation:
Asian College of Teachers provides a comfortable stay in Kolkata during its 3 weeks TEFL in class course program. One can avail both A/C and non A/C accommodation according to their preference. A/C accommodation will provide all the facilities like television, internet for a price of 18,000 INR. Accommodations are available near the institution.
Certification
⦿ On successful completion of the teach English as a foreign language course, candidates will receive a globally recognized certificate awarded by Asian College of Teachers (ACT)
⦿ ACT TEFL courses are accredited by the world's largest TESOL accreditation body TESOL Canada & TESOL USA
⦿ Successful TEFL students can get an exclusive TESOL Canada Certificate after appearing and successfully passing the TESOL Canada Board exam by paying an extra exam fee.
⦿ TESOL Canada Certificate can be Notarized, Apostle, Attested by Embassy of India in Ottawa or Washington
⦿ TESOL Canada Certificates can be signed and sealed by UAE Embassy in USA or Canada
⦿ Certificates can be authenticated by Canada - Ministry of Foreign Affairs and USA
⦿ ACT is a Cambridge authorized TKT Centre and all our students can sit for Teaching Knowledge Test exam and earn their Cambridge Certificate.
Accreditation
⦿ ACT TEFL courses are accredited by the world's largest TESOL accreditation body TESOL Canada & TESOL USA.
⦿All TEFL courses are accredited by International Association for Quality Assurance in Higher Education (QAHE)
⦿TEFL Courses from ACT are also accredited by CPD Certification Service UK
⦿All ACT courses are endorsed by NCC, an awarding organisation and a global provider of British education

Accreditation is a type of quality assurance process under which services and operations of educational institutions or programs are evaluated by an external body to determine the standards of quality. It acts as a vital tool to monitor and assess the standard and quality of education. TEFL is the ticket to travel the world and experience the different unique cultures and majestic beauty of different locations.

The program provides comprehensive training on all the contemporary approaches of teaching English as a foreign language. The trainees are certified by Asian College of Teachers, and also by TESOL Canada , after appearing for their respective exams. Each of the certificates holds global value preparing the trainees for better TEFL opportunities.

All our TEFL courses are accredited by the world's largest TESOL accreditation body TESOL Canada & TESOL USA and the candidates get the option of appearing in the TESOL Board exam and receiving prestigious TESOL Canada and TESOL USA certificates notarized, attested and apostle by USA and Canadian Government and Embassy of UAE and India.

Moreover, after successfully completing the TESOL Course, the candidates can further opt for our Degree programs in TESOL/TEFL.